Jeans are like men, there are so many around yet only a few that are right for You. It's not uncommon these days to have 10,20, 30 pairs of jeans but really how many of them make you look fabulous every time? Contrary to what magazines say there is no magic cut for different body types. Surely there are guidelines to follow such as if you have big butt don't wear jeans with big back pockets. In reality it's not only the pockets but also the distance between them that plays a major role. What does work is getting in that fitting room and trying them on. One thing certain is how often women ruin their perfect pair of jeans by wearing them in a wrong way. Let's concentrate on how to correct that.
Skinny
These babies should not flatten your butt or create a tummy pouch. The length if of a major concern, they should spiral down to the shoes or extend to the floor in retro style. If legs are not your best asset then pair skinny jeans with high boots to draw attention away from your legs. Never: low-waisted lycra model that crushes your butt and reveals the crack and combines so horribly with a mini T-shirt or jersey tank riding above the belly button. Urg.
Yes: to skinnys in leather, jean, cotton or waxy stretch perfectly fort fitting. If you invested in the right pair you can even promote them to the level of basic indispensable. Match them with loose T-shirt, silk shirt, ballet flats or biker boots.
Flared Jeans
They lengthen the legs and balance out your body, particularly if you are top heavy or curvaceous. Worn with the right shoes: booties, platforms, wedges they can do wonders. If you are on a heavy side go for "boot cut" the difference is that they flare out from the knee. By completely covering your shoes you will appear much taller and leaner.
Boyfriend Jeans
Show your love for your Man and steal his jeans.  Perfect pair is always at least two sizes bigger than your normal size. These jeans look amazing in combination with feminine touches: ruffles, silk, leather, sexy shoes and clutches.  My favorite combo is either stilettos in bright colors with retro blouses or flats by Cloe with an oversize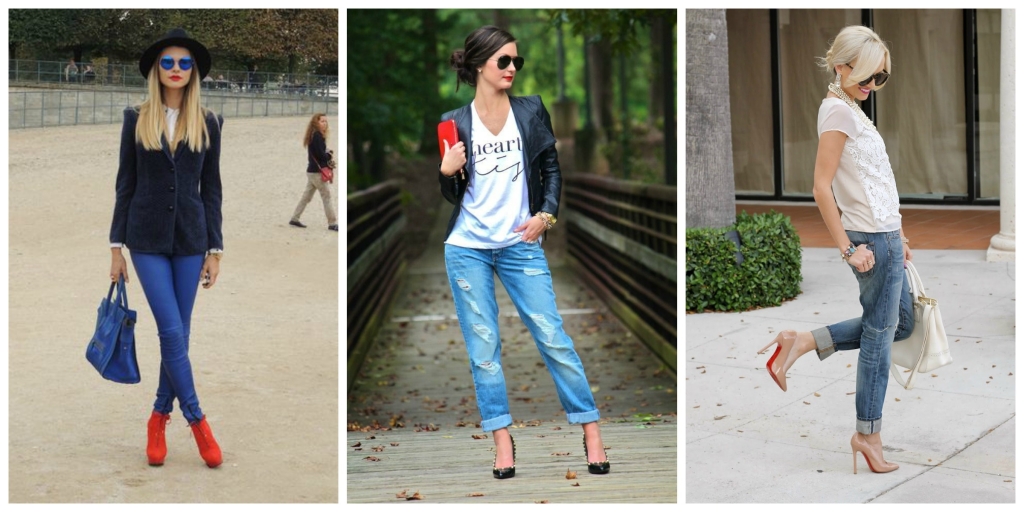 bag. Remember to tuck in your t-shirts and blouses and fasten the jeans with an equally sexy belt.