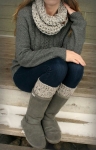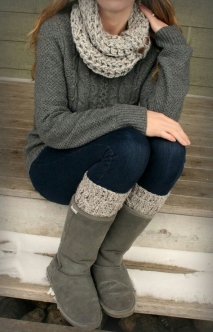 I admit that I do miss winter sometimes. All those lovely wintery clothes  that you can layer and of course the boots that vary from high heeled leather ones to uber soft and comfortable to walk around in like UGGS. Speaking of UGGS they are back in style. I don't think they ever left the fashion sceen at all.
In 1978, a young surfer from Australia took a trip to Southern California with a bag full of sheepskin boots and the beginnings of a lifelong endeavour. It was there that the UGG brand was born; the brain-child of Brian Smith, who wanted to capitalise on the casual lifestyle and relaxed crowd that the Californian beaches were renowned. Fusing Australian craftsmanship with a laid-back Californian approach proved a winning formula and the boots were an instant hit and began to far out reach the humble seaside beginnings.
By the late 1990's the classic boots were an international success. The meteoric rise of UGG meant that the range quickly expanded to include a variety of footwear, accessories and apparel cementing the brand to iconic luxury lifestyle status. In the early 2000's, UGG Australia began to take New York City by storm. The brand that began with sheepskin boots for the active outdoors soon became a symbol of style and luxury, appearing in Vogue and worn by many iconic celebrities. The brand began to offer varieties of colours and styles to expand the selection even further. Once seen in New York, the rest of the world soon followed.