Twice a year Singapore gets a real buzz, the kind of buzz I am used to; having lived in the Big Apple for 20 years.  The first one happens during the F1 weekend when international celebs, race car drivers together with their various crew and the party people descend upon this tiny island and hotel rates triple! The second and more tiring is during Singapore Fashion week. International designers, Editors, Buyers and Celebs once again descend upon this tiny island. There are back to back shows, and back to back events for an entire week. You can see how tired the Fash Pack are, especially the magazine editors.
This year DVF who is also the President of the Council of Fashion Designers of America 'Opened' SFW. Victoria Beckham will be 'Closing' making these 2 shows the most highly anticipated.
90 min before the big event my phone rang. "Julia I've got terrible news," Bon Bon Girl sounded a little shaken. I found out later that her grandmother had passed away. "Would you like to take my front row seat? It would be such a waste." Let me think about it for a second… Ahh, Yes please!
So what does a personal stylist who usually helps others get ready for big events do? Panic? No! I had to make a quick decision. Do I wear something from DVF to her event and run a risk of someone else wearing the same outfit or do I just concentrate on looking the best in what makes me feel confident at that moment? I opted to option #2. My choice of clothes: Classic Cigarette pants with a silk Pucci blouse. Muted makeup and an elegant clutch that's big enough to fit a phone and a small camera.
A fashion show held by a highly respected designer is for the stylist, what Formula 1 is for an avid driver. I loved the whole atmosphere of anticipation, what the designer ???. It's also right here that Singapore's fashionistas and 'it' girls make the best effort to showcase their personalities through the choice of clothes.
After everyone was seated, and the lights were dimmed, the most seductive song of all from the movie "50 shades of grey came on. "Seduction" was the name of the new DVF collection. I was expecting to see lots of wrap dresses in floral prints but was surprised yet excited to find a new wave. Outfits were structured and exuded power with a lot of sensuality. They were very much in line with the movie 50 shades of grey. It was clear even the designers drank from the same cooler. I liked the idea of what I called a "jack-dress" it's a jacket with a built-in dress. I think it will be a new hit in the office as well as a good alternative to a boring shift dress or a suit. My two favorite outfits of the evening were: 1. classic black and white wool with rayon mix wrap dress that Diane is famous for and a long evening dress with peekaboo black lace bodice.
In the finally Diane Von Furstenburg walked down the runway to a famous Billy Joel song "She is always a woman to me". The message was clear. Even though the fashion changes, and at times takes on masculine elements, at the end of the day the woman has to feel like The Woman.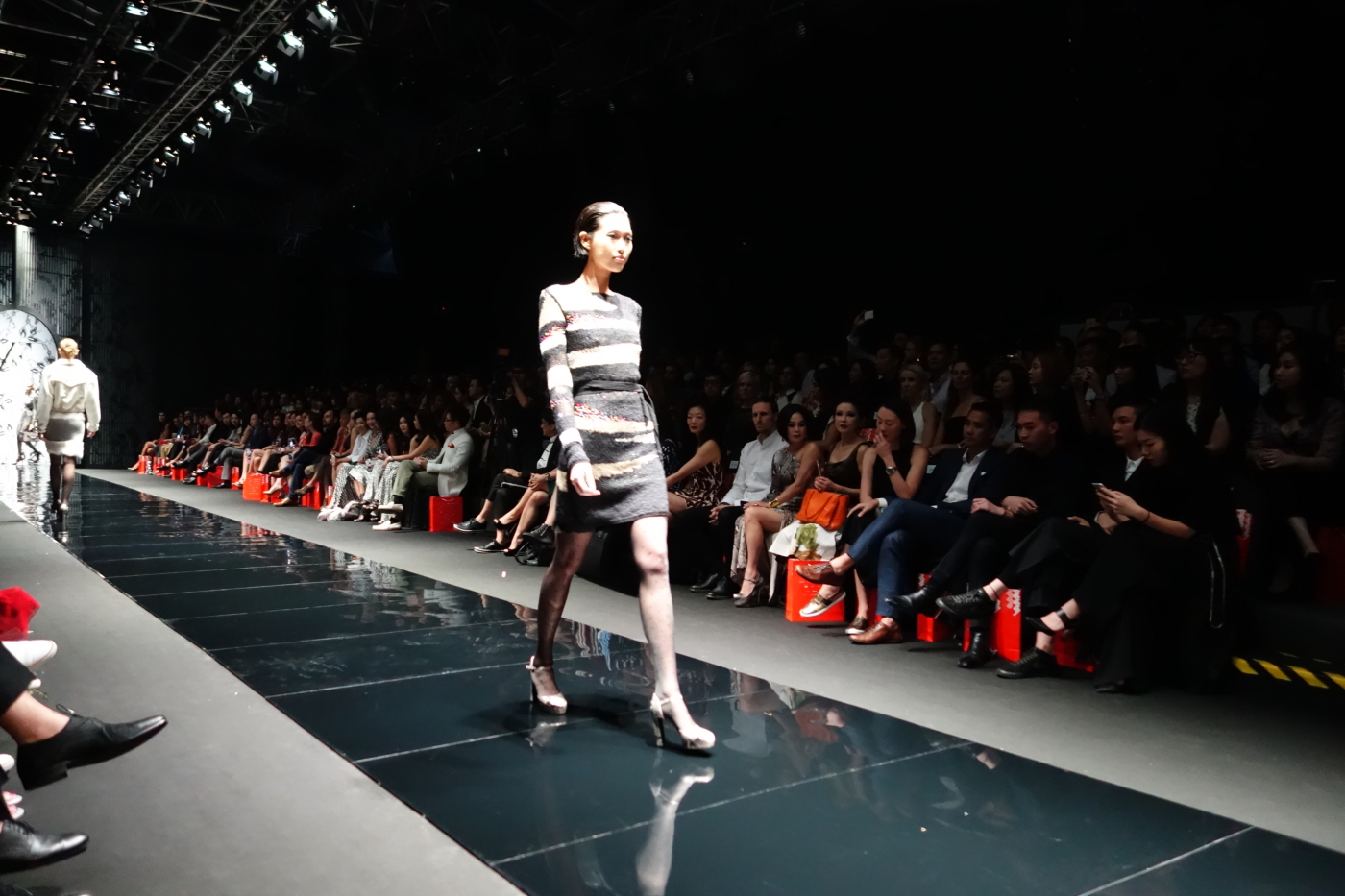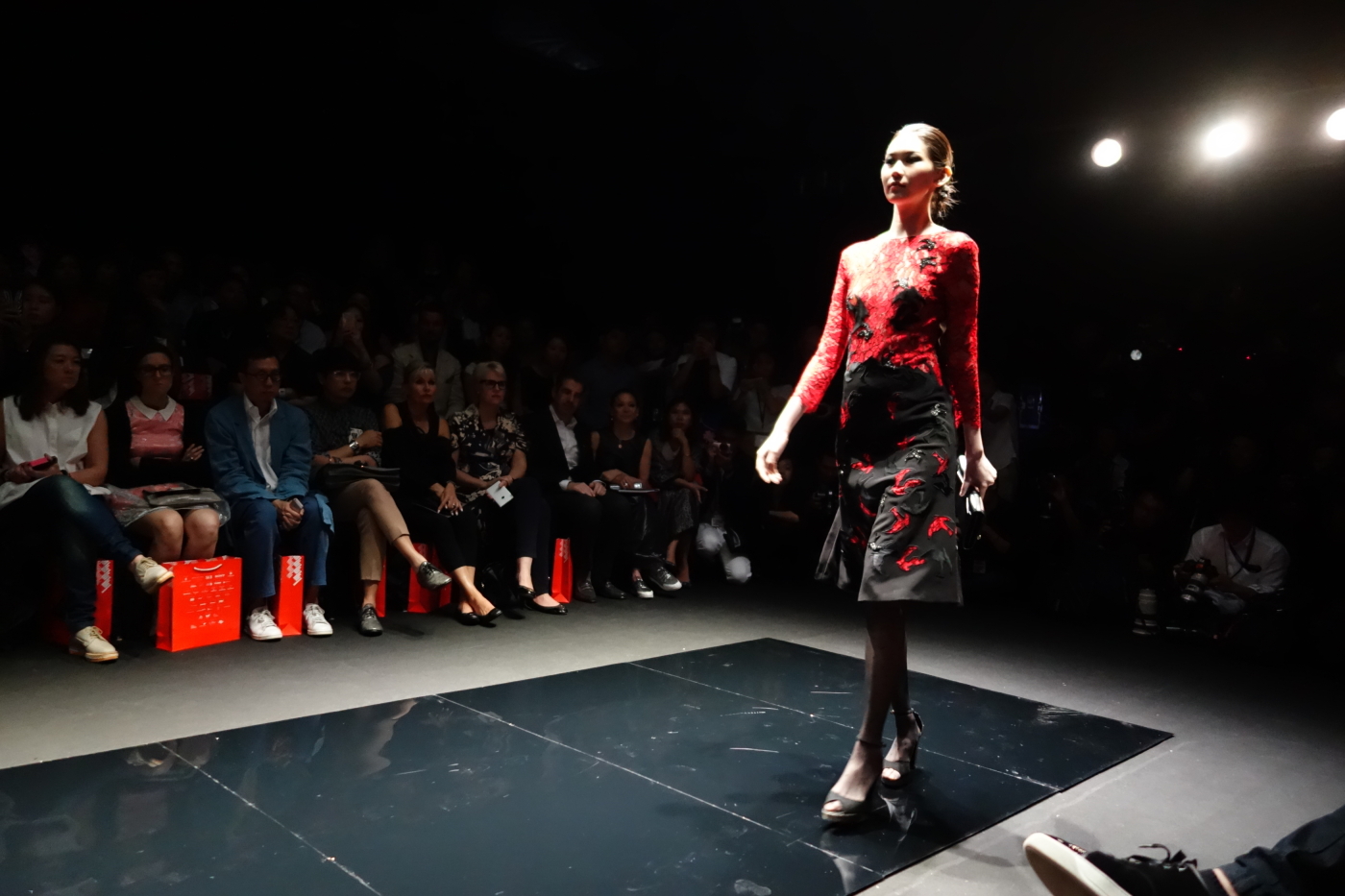 Shopping for clothes in Singapore can be a challenge simply because most high street retailers tend to cater to customers who have relatively small frames. Inventory of larger sizes is usually limited and so if you're not one of the lucky few then chances are you're going to be disappointed. In fact, one of the most common remarks I hear from some of my clients is that oftentimes clothes and especially shoes are not available in their size, which can become frustrating if not downright depressing over time. I'll talk about shoes separately, but if you find yourself running out of options because you can't find your size then don't worry, the solution is well-made custom clothing.
The trick to good custom-made clothing is of course the quality of the Tailor, which I will write about after I've done some additional recon work! In the meantime I want to share with you my findings from a recent trip to Arab Street, the fabric heaven of Singapore. Here it is possible to learn about different silks and other materials, but you also have to know what you're looking for and so it really makes sense to go with an experienced shopper.
Did you know for example that raw silk usually has a much stiffer feel than normal silk, which is usually a blend of silk and polyester and often comes from Korea? My favorite however is Italian silk, which is incredibly soft and luxurious and is available in the world supply of amazing colors and patterns. And to my surprise, good quality silks in the Arab Street area are not that expensive. I calculated that it would cost between US$70-100 to make a long dress out of a good quality silk, which is very good value for money.
Here is something for you to consider when you shop for fabrics:
1. Make sure your know "your" colors. Which ones make you look younger, fresher, and healthier vs. those colors that work against you, making you appear older or less vibrant.
2. Same for patterns. Which patterns work well for your body style, and for the clothes you have in mind – short dress, long dress, blouse, skirt etc.?
3. How much fabric will you need for the piece you have in mind?
4. Do you know which styles will flatter your body type before you head down to your local Tailor and ask him to copy something from Pinterest?
5. Never buy fabric just because it's pretty or feels amazing. Always have a good sense of what you intend to make from it.
If you're not sure about any of the above then please remember to consult me before you head out. It's easy to get tempted by so many beautiful materials and start buying without a plan, but we all know that's not necessarily the wisest thing to do!!!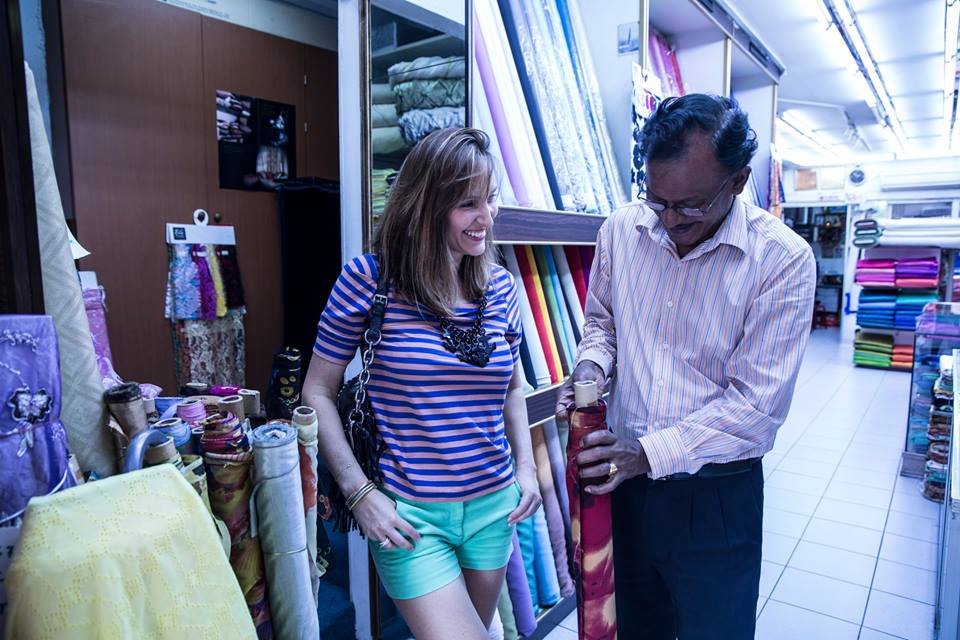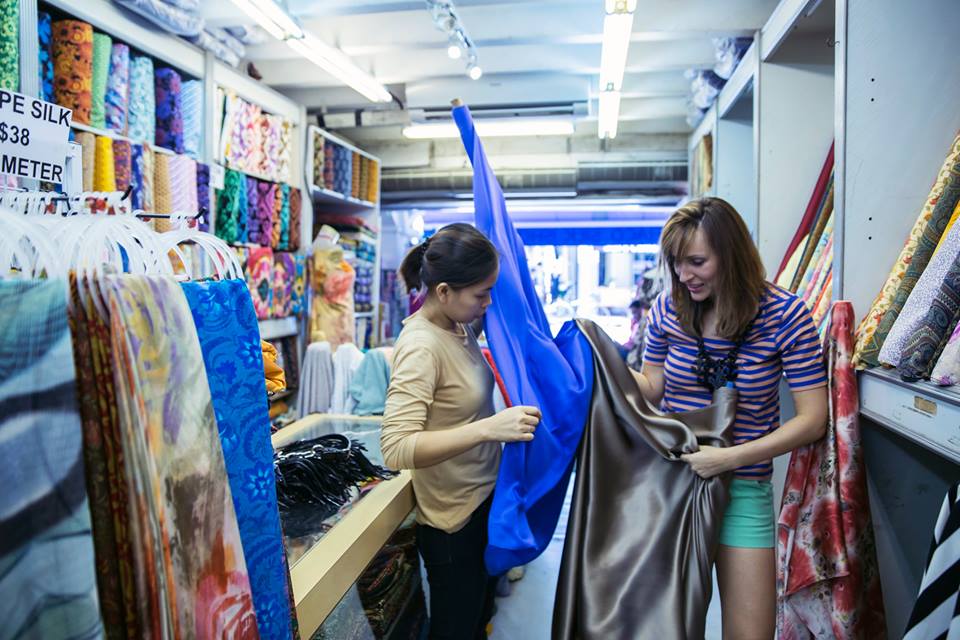 Like many curious Fashionistas I too like to travel, but not just travel – I like to travel to places that trigger ideas and inspiration in my creative line of work.
My clients are typically quite worldly and so they look to build collections that are adaptable and can be worn/used in several different places and not just where they reside. Being abreast of style in a global context is therefore very important to me.
In December I set off to explore southern California, focusing on Santa Monica, San Diego/La Jolla, and Palm Springs. It was no great surprise that women in Santa Monica, which is only a short distance from Beverley Hills, are all beautiful and exceptionally stylish. Because of the season I saw lots of women wearing boots with leggings and sweaters, leather jackets, and body warmers yet in/around Santa Monica and Malibu the style was a lot more relaxed with a strong bias toward the outdoors and oceanfront living with designers such as James Perse appearing quite popular.
As you drive south along the coast to San Diego the 'relaxed' theme continues. The amazing seafood and mouthwatering Mexican-influenced cuisine with freshly prepared guacamole and salsa suggest the lifestyle is designed around a "work-to-live" mentality as opposed to a "live-to-work" philosophy that is more commonplace elsewhere in the US and especially in major cities on the East Coast, such as New York. In California this is also reflected in business attire, which is less-formal, as well as a generally more laid-back feel and relaxed sense of fashion. This is not to say Californian's don't do formal – they certainly do and they do it well as recently seen in the Golden Globe Awards!
From San Diego and La Jolla I traveled North East to Palm Springs, a true desert oasis. It was probably the most beautiful out of the three locations, but also the most challenging to dress stylishly in. The Palm Springs Desert and the Joshua Tree National Park with its yellow and beige color tones were simply stunning and it was hard not to stop for a quick photo shoot. The photos were not pre-planned, and sometimes it's better that way.
Here is my choice of comfortable yet stylish outfits. I hope they will inspire you, and give an idea of how to pare things together in a different way.
Playing in the sand with my kids:
Sweater by Dolce Gabbana, pants by Berenice, Sneakers Nike
Strolling in the desert: Skirt and sweater and boots by Zadig&Voltaire. Hat Maison de Michele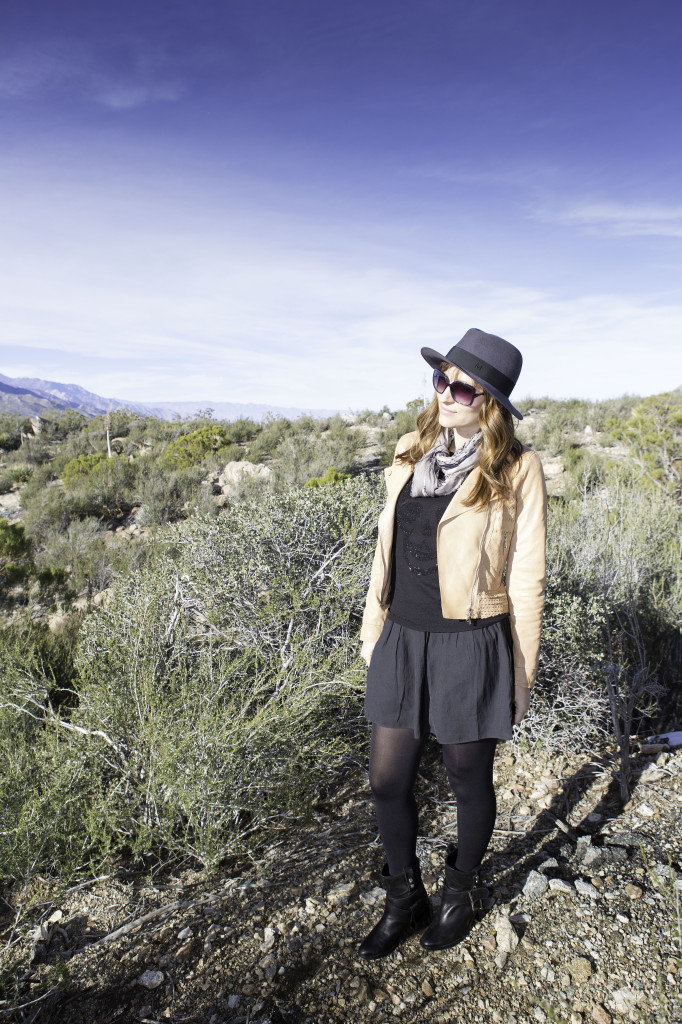 Paris fashion week is an amazing week where many designers display their autumn/winter collections offering to showcase their skill and talent. And if you're lucky enough, you'll get to meet with world most famous icons, celebrities and filmmakers. I would have loved to say that that's why I was in Paris, however it was not. I was in London and Paris with my husband of 12 years celebrating our wedding anniversary. I did not get to mingle with fashion designers on this trip but I had the time of my life being romanced by my husband. Every year we try to get away just the two of us and see the World without being pulled in different directions by our lovely boys.  And what kind of romance does not involve a bit of shopping? Certainly not my kind of romance. Living full time in Singapore left my fall wardrobe in a state of despair. So before I left I bought just a bare minimal to take me through the first days: Short booties from Vince, stockings (M&S makes the best!) and a few cutesy outfits from Zara and of course a leather jacket at Balenciaga.
First 4 nights we spent in London, staying with our dear friends whom we met in Singapore. They now own a beautiful Edwardian home in Barnes, a posh neighborhood 20 min outside of central London. Beckhams and McJAgers apparently own their homes there too. On a first day David and I joined a walking tour group and spent two hours inside a famous Westminster Abbey Cathedral. Second Day we decided to check out Portobello Market and shopping in Notting Hill. My favorite designers: Melissa Odabash, James Perse, Club Monaco and concept store Matches were all there. Matches was a shopping heaven. Not only they had very knowledgeable staff to help me but the collection of designer pieces they carried was second to none. It's here that I splurged on my new boots by Gianvito Rossi and my now most favorite hat by Maison Michel, which at some point was a part of Chanel house. Those two items pretty much appeared in most of my photos, I simply could not part from them. Paris shopping was equally amazing but I had to do more window shopping  to save time for museum and eating . One can't have it all! I hope these looks inspire you for your next holidays.
Please follow me on Instagram:  JuliaRBlank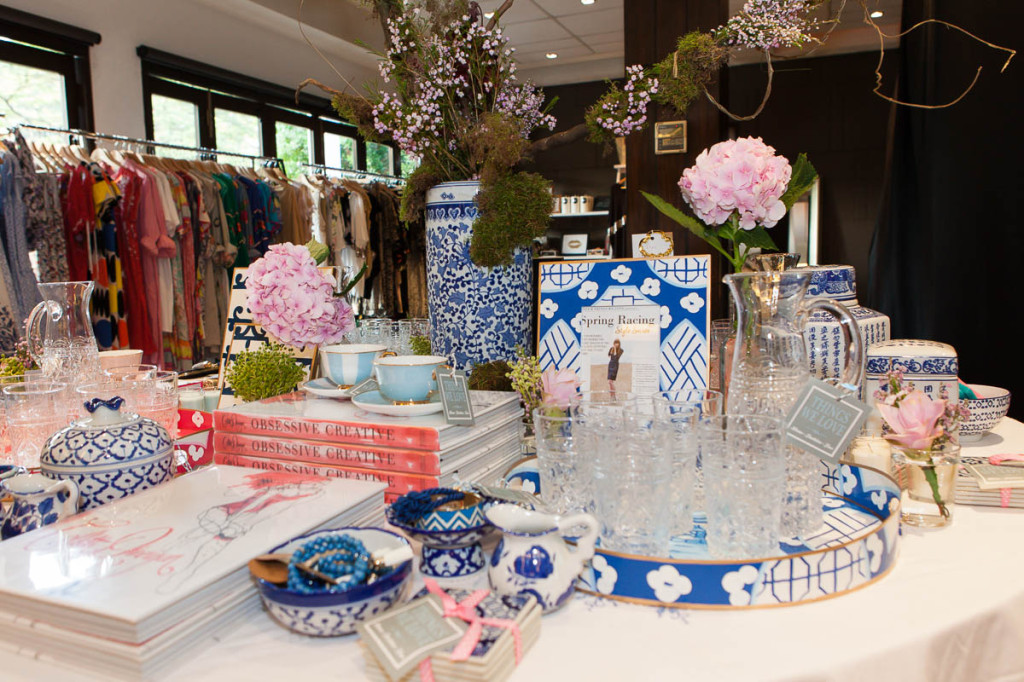 ThingsWeLove is a wonderful popup store that brings brands from Australia. This time it was held in a beautifully decorated  French restaurant Au Petite Salut.  I eagerly accepted my role as a stylist to conduct a short workshop with their new collection of designers such as: Collette Dinnigan, Lilaya and Istana. Some of the well known names I was already familiar with but some other ones were a delightful surprise. All clothes was weather and country appropriate. They ranged from outfits that you can do school run in to cocktail dresses and resort wear. I was happy to provide advice on how to wear certain pieces and which accessories to add for a complete look.
It was not a big surprise to find out that most accessories were sold out on their second day. Even I did not get my hands on a necklace I liked. Perhaps better luck next time.
If you are in Singapore in October, be on the lookout for their next event.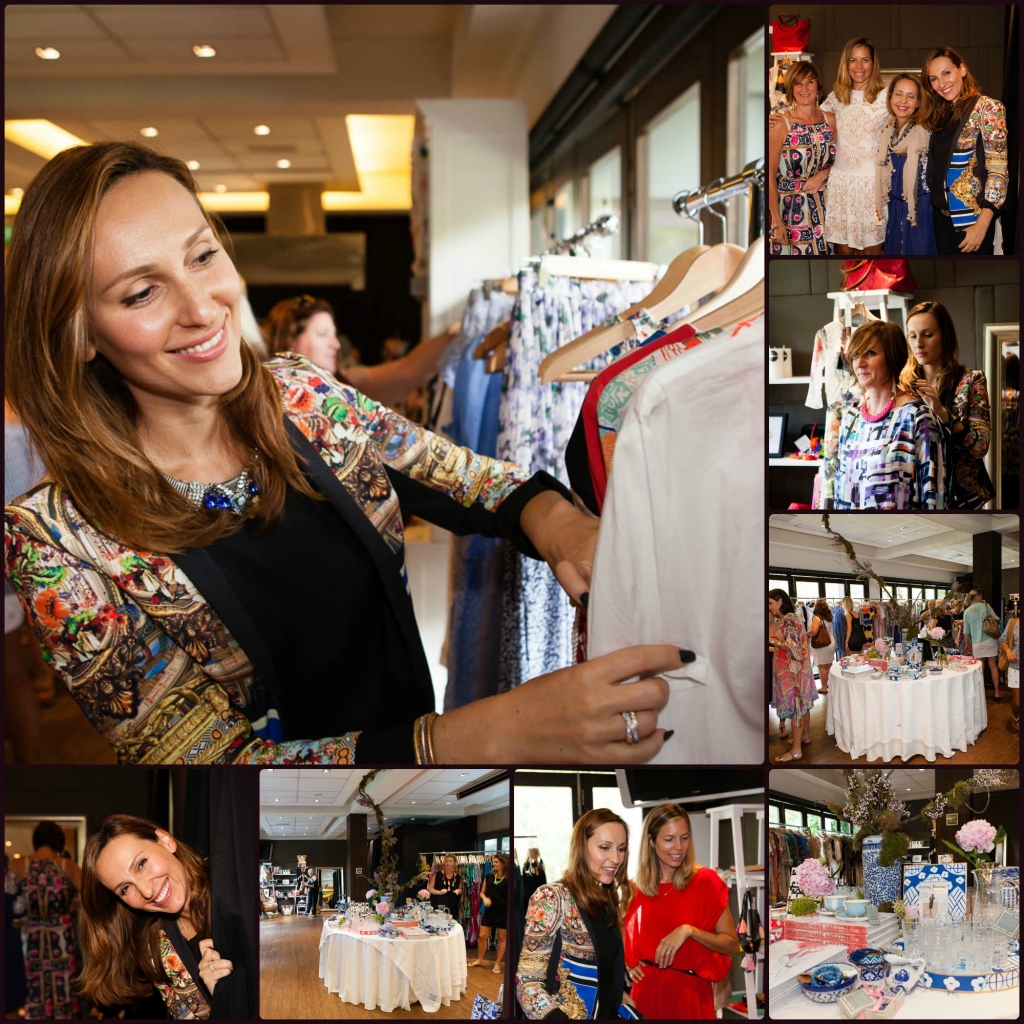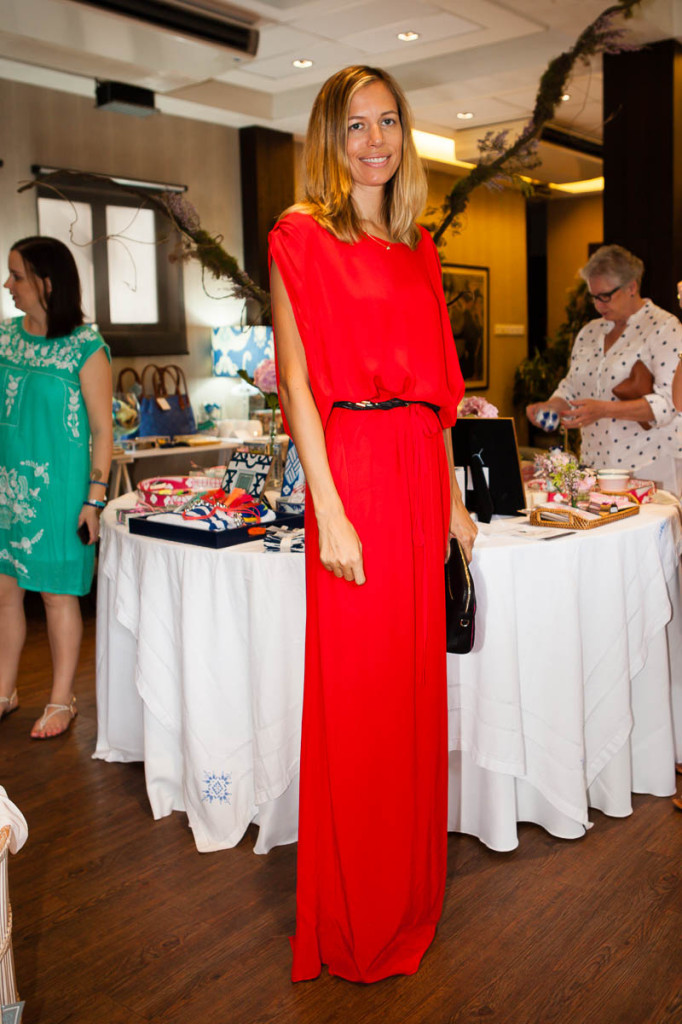 Jeans are like men, there are so many around yet only a few that are right for You. It's not uncommon these days to have 10,20, 30 pairs of jeans but really how many of them make you look fabulous every time? Contrary to what magazines say there is no magic cut for different body types. Surely there are guidelines to follow such as if you have big butt don't wear jeans with big back pockets. In reality it's not only the pockets but also the distance between them that plays a major role. What does work is getting in that fitting room and trying them on. One thing certain is how often women ruin their perfect pair of jeans by wearing them in a wrong way. Let's concentrate on how to correct that.
Skinny
These babies should not flatten your butt or create a tummy pouch. The length if of a major concern, they should spiral down to the shoes or extend to the floor in retro style. If legs are not your best asset then pair skinny jeans with high boots to draw attention away from your legs. Never: low-waisted lycra model that crushes your butt and reveals the crack and combines so horribly with a mini T-shirt or jersey tank riding above the belly button. Urg.
Yes: to skinnys in leather, jean, cotton or waxy stretch perfectly fort fitting. If you invested in the right pair you can even promote them to the level of basic indispensable. Match them with loose T-shirt, silk shirt, ballet flats or biker boots.
Flared Jeans
They lengthen the legs and balance out your body, particularly if you are top heavy or curvaceous. Worn with the right shoes: booties, platforms, wedges they can do wonders. If you are on a heavy side go for "boot cut" the difference is that they flare out from the knee. By completely covering your shoes you will appear much taller and leaner.
Boyfriend Jeans
Show your love for your Man and steal his jeans.  Perfect pair is always at least two sizes bigger than your normal size. These jeans look amazing in combination with feminine touches: ruffles, silk, leather, sexy shoes and clutches.  My favorite combo is either stilettos in bright colors with retro blouses or flats by Cloe with an oversize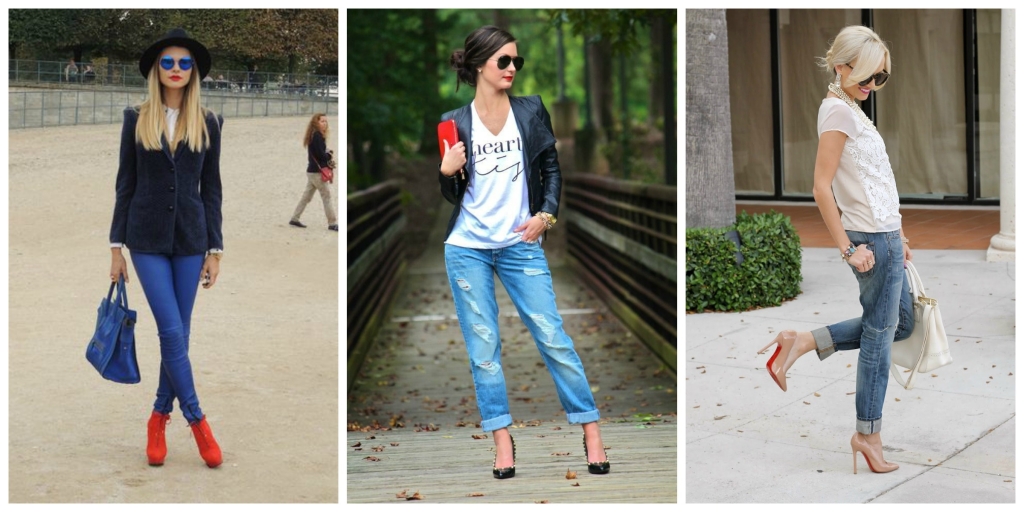 bag. Remember to tuck in your t-shirts and blouses and fasten the jeans with an equally sexy belt.
Going on beach holidays is exciting, particularly the part where you can't make up your mind about what to pack. If you are anything like me who packs lots but wears little then this will perhaps inspire  you to rethink your outfit choices.  I got at least two outfits from this cute top.  Don't ask me where it's from, it came from my Mom. Yes, my Mom is a skilled shopper and she sends me some goodies, the top was one of them.  Pants Zadig &Voltaire in bright watermelon color go well with grey, white, black and well turquoise. I would definitely bring them with me next time. The same top can be combined with Zara high-waisted shorts. This lovely hat was from St. Regis Bali and unfortunately I forgot to buy it at their shop,what a shame.
A black dress from my new favorite Brazilian brand Lulu Yasmine, I wish they had a store here in Singapore. (Stores are in Bali). Flagship store is right opposite Hotel W in Seminyak.  It was my first time shopping there and I found their collection cool and well made, although not cheap.
I am hosting a Designer Second Hand Sale for my friends.
It's a social afternoon where one can find great treasures from someone's closet.
If you are attending as a seller there are a few simple rules to follow.
Please label your garments with tags indicating the price (ex:Was $800 now $100)
I will hold an auction for couple of my own pieces, basically it will go to the highest bidder. If you are interested to auction your piece let me know.
All visitors have to sign in at the billiard room for security reasons.
There is a lucky draw which is a surprise. Please show up on time it's only for two hours.  I Can't wait!